Print Article
Fintech Partnerships: What to Consider
by Ethan Jackson, Senior Technical Advisor, Strategy, Risk Strategy, Risk, and Innovation Team, Supervision, Regulation, and Credit, Federal Reserve Bank of Richmond, and Jessica Olayvar, Supervisory Analyst, Strategy, Risk, and Innovation Team, Supervision, Regulation, and Credit, Federal Reserve Bank of Richmond
Banks have historically engaged with technology firms to facilitate transactions and optimize internal processes. However, over the past several years, the variety of technology firms offering financial technology (fintech) services, new financial products, and digital enhancements to banks has rapidly increased. The article "A New Era of Banking: 12th District Community Banks Are Driving Innovation Through Fintech Partnerships," which appeared in the First Issue 2022 of Community Banking Connections, gave several examples of innovative partnerships pursued by community banks in the 12th District.1 While there are countless reasons a bank may pursue a fintech partnership, understanding the partnership types and unique fintech due diligence considerations can help prospective bank partners effectively navigate this dynamic landscape.
Types of Fintech Partnerships
In early 2021, Federal Reserve staff held meetings with community bankers and other industry stakeholders across the country to better understand their risk management strategies and relationships with fintech firms. These conversations prompted the release of the paper "Community Bank Access to Innovation Through Partnerships," which categorized fintech engagements into three main types: (1) operational technology partnerships, (2) customer-oriented partnerships, and (3) front-end fintech partnerships.2 The Figure highlights the differences between these three types of engagement given a bank's strategic needs.
Figure: Types of Fintech Partnerships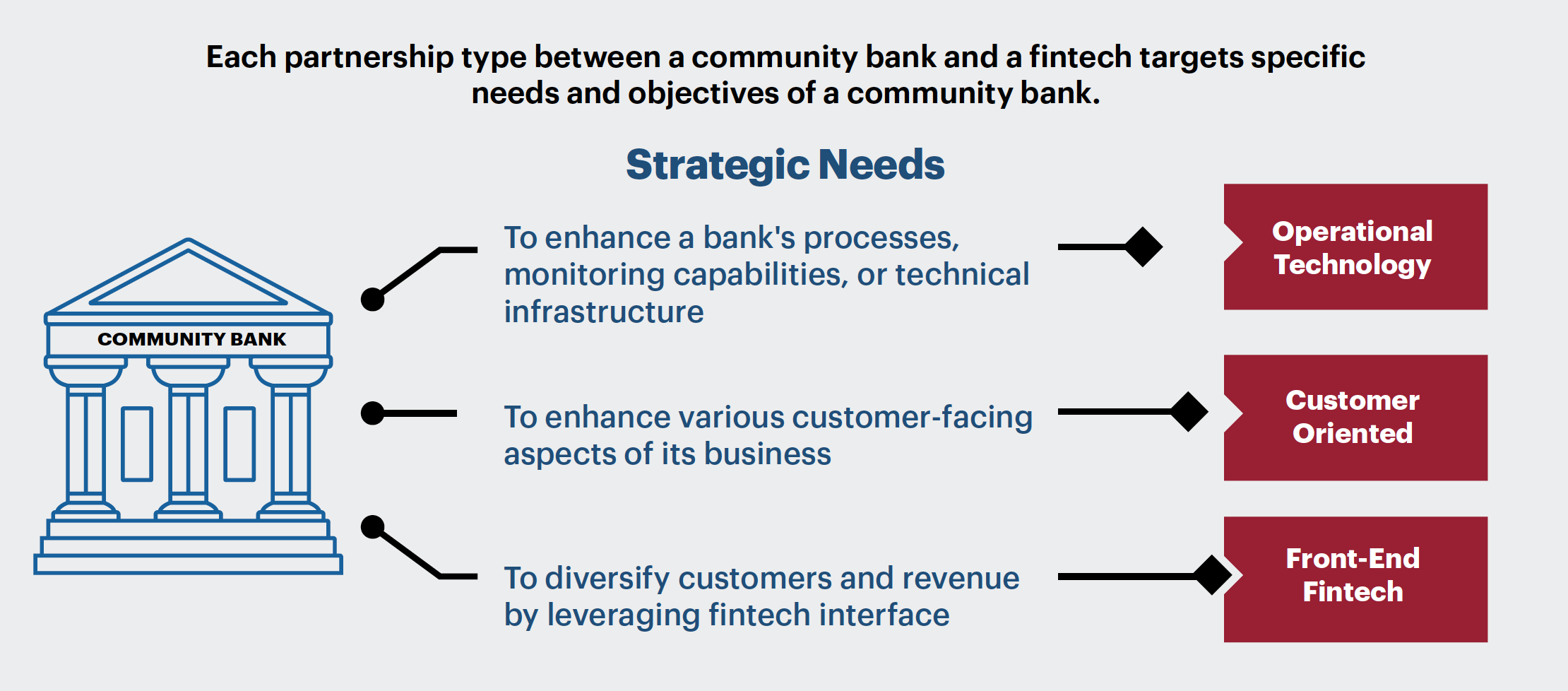 Source: "Community Bank Access to Innovation Through Partnerships," available at www.federalreserve.gov/publications/files/community-bank-access-to-innovation-through-partnerships-202109.pdf
These key considerations are relevant for all three types of partnerships:
As a precursor to any type of partnership, establishing a robust third-party risk management program (see Due Diligence Considerations for Fintech Partnerships)
Drawing on a cross-disciplinary team to identify key risks and plan for implementation
Having relevant staff with the technical expertise to execute and maintain the third-party solution
Developing contingency plans and considering the life cycle of the fintech partnership
Beyond these considerations, each type of partnership has its own specific benefits, risks, and challenges.
Operational Technology Partnership
In an operational technology partnership, a bank strives to gain efficiencies, streamline processes, enhance monitoring, and/or improve the ability to comply with regulatory requirements (sometimes called regulatory technology, or regtech). These behind-the-scenes partnerships aim to improve the bank's internal systems and workflows, such as loan underwriting or fraud detection. One example of this could be a partnership that uses artificial intelligence (AI) to automate the credit decision or underwriting processes.
In this example, AI has the potential to expedite and streamline these processes. However, banks should align credit decisions with existing credit risk management policies and practices. Additionally, the use of AI in underwriting may increase the risk of introducing exclusionary bias toward protected classes, leading to fair lending concerns. This topic has gained prominence in recent years and is a key area of responsibility for the Consumer Financial Protection Bureau (CFPB).3 Bank business lines, such as compliance and audit, should be involved in the due diligence and risk assessment process to mitigate the possibility of encountering issues later.
Customer-Oriented Partnership
Customer-oriented partnerships aim to enhance some aspect of a bank's underlying customer-facing platform without the fintech directly interacting with customers. Some examples of these partnerships are account opening tools or person-to-person money transfers. Community banks have traditionally been constrained to their geographical footprint. By enhancing the digital presence of community banks, customer-oriented partnerships could help community banks reach new customers4 and satisfy existing customer demand. However, like any customer-facing product or service, this type of partnership, if not managed properly by a bank, can expose the bank to increased compliance or reputational risk.
For example, a bank exploring a fintech partnership that facilitates the opening of deposit accounts or loan originations should comply with its customer identification program, customer due diligence program, and beneficial ownership program to limit any Bank Secrecy Act (BSA) risks. Additionally, a bank failing to include appropriate disclosures on the newly enhanced customer-facing platform could be found to have Unfair or Deceptive Acts or Practices (UDAP).
Front-End Fintech Partnership
The least common but fastest-growing subset of partnerships is front-end facing, sometimes referred to as banking-as-a-service or BaaS. In this type of partnership, a fintech firm interacts directly with a consumer by providing services or banking products using the bank's infrastructure. Under these agreements, the bank can be seen as a silent partner, and fintech customers often are not aware that a bank is involved in the service or transaction. By combining a fintech's technological capabilities with a bank's infrastructure, these partnerships often aim to grow deposits, diversify the bank's lending portfolio, and increase revenue streams.
Risks vary depending on the type of product offered through an established partnership and can include, but are not limited to, market, credit, liquidity, operational, third-party management, and compliance risk. For example, banks partnering with deposit-seeking fintech firms should prepare for a high volume of new customer acquisitions arising from the fintech firm and create contingency plans for unwinding the customer relationships and safeguarding liquidity if the fintech partnership is terminated. Additionally, newer fintech firms may be inexperienced when it comes to banking regulation, requiring enhanced compliance oversight and education.
Due Diligence Considerations for Fintech Partnerships
Banks are expected to conduct adequate due diligence prior to vendor selection for any outsourced partnership. SR letter 13-19/CA letter 13-21, "Guidance on Managing Outsourcing Risk," advises banks on the risks posed by service providers, the role of senior management, and, of course, due diligence considerations.5 SR letter 13-19/CA letter 13-21 outlines three key aspects in a due diligence evaluation: (1) business background, reputation, and strategy; (2) financial performance and condition; and (3) operations and internal controls. This guidance is certainly relevant as bank senior management and board members consider prospective fintech partnerships.
In August 2021, the Federal Reserve Board, the Federal Deposit Insurance Corporation, and the Office of the Comptroller of the Currency issued Conducting Due Diligence on Financial Technology Companies: A Guide for Community Banks as a resource geared toward this specific process.6 While this guide builds on the expectations outlined in SR letter 13-19/CA letter 13-21, it describes the benefits and risks that arise in fintech partnerships and outlines six key topics for banks to consider during due diligence evaluations (see Key Due Diligence Topics). The guide further explains potential considerations and information sources that bankers could request from fintech companies to review during the evaluation period. For example, under the "Business Experience" section, the guide suggests reviewing the fintech's company overview, organizational charts, list of client references, volume and types of complaints, public records of legal and regulatory actions, media reports, and a summary of any past operational failures of the company. Bankers may use this guide as a supplement to their vendor risk management framework to evaluate potential fintech partnerships.
Key Due Diligence Topics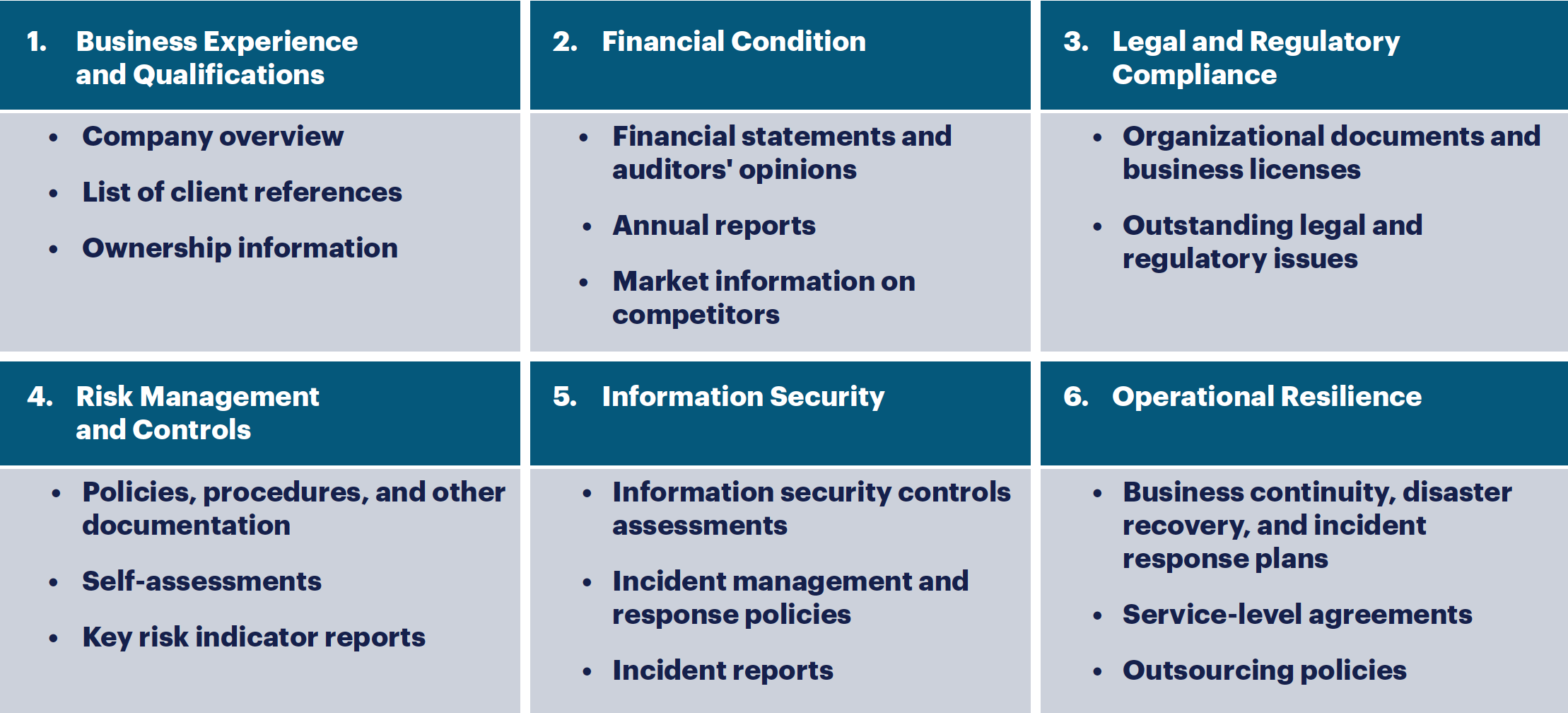 Source: Conducting Due Diligence on Financial Technology Companies: A Guide for Community Banks, available at www.federalreserve.gov/publications/files/conducting-due-diligence-on-financial-technology-firms-202108.pdf
Conclusion
Banks seeking to establish new fintech partnerships are encouraged to begin their search with a clear idea of the bank's overall business goals and objectives. Similarly, it is important to have a thorough understanding of how a fintech firm's business strategy and risk profile align with the bank's established risk appetite and objectives. In general, a bank with a robust third-party risk management program that encourages cross-disciplinary input and considers the life cycle of a partnership is best positioned for an effective partnership.
Many community banks have attempted to stay abreast of evolving technologies by turning to various sources for guidance. For example, there has been a rise in community and regional bank–led incubators, consortiums, and associations focused on pooling resources for understanding, investing in, testing, and successfully implementing new technology. To improve their understanding of the dynamic fintech landscape, some bankers have had informal discussions with peer banks to learn from their experiences. Several state and federal regulators have launched staff units dedicated to facilitating communication and providing helpful information to fintech firms and bank partners. Banks are encouraged to reach out to Federal Reserve examination staff members for answers to questions about establishing and implementing fintech partnerships, including risk management expectations.